It wasn't the original planned Grand Tour of Europe, but a 3 week circuit to the Highlands and back was a great first campervan trip.
(Blog constructed from Facebook posts made at the time).
We finally managed the First Warde Family Big Campervan Tour in late July and August. We had originally planned a 3 week Grand Tour of Europe this summer but, things being what they were with Covid, we decided to stay on the island. So the new plan was to make our way north and discover Scotland – castles, lochs, mountains and midges. Our furthest point was to have been Salzburg. Now it was Dingwall (home of Ross County FC). Here's our route (which we did over 19 days, not 23 h 28 mins!).
Campervan adventure Days 1 & 2. Yorkshire in the rain. Castle Howard (the building was closed but the grounds and gardens were open, and well worth the visit). And Rievaulx Abbey (which was sadly closed for another week, but we took in the view). Camping at Singsby – here's our very first campervan setup:
Campervan adventure days 3 & 4. Whitby and its Abbey (below). Then north to Bamburgh Castle and a flying visit (because the tide was coming in!) to St Aidan and his priory at Lindisfarne. On into Scotland and a windy pitch overlooking the Firth of Forth.
Campervan adventure days 5 & 6. We had sunshine not quite on Leith, but further down the Firth of Forth. An ice cream in North Berwick was our first time "eating out" since March! The next day wasn't quite so beautiful – we picnicked in the rain beside an iconic, beautiful bridge (below), and a detoured to the home of golf before pitching in a nice sheltered spot at Scone, preparing for our first glimpse of the highlands.
Campervan adventure days 7, 8 & 9. To Blair Castle and Pitlochry. We inspected the crowning-place of Scottish monarchs at Scone. Then a wonderful drive through the Glenshee pass (below) and the eastern Cairngorms to our most northerly campsite at Dingwall, near Inverness.
Campervan adventure days 10, 11 & 12. The Highlands. Based at Dingwall on the east coast, at a point where mainland Scotland is only 40 miles across, we nipped across to Ullapool on the west coast for a day. Worth the trip just for the fresh seafood takeaway at the Seafood Shack. Then a day mooching around the Great Glen and Loch Ness. Next, a big drive took in the Caledonian Canal, stunning Glencoe (below), and ended in the sunshine pitched on the shore of Loch Lomond.
Campervan adventure days 13, 14 & 15. …but the sunshine didn't last! After a trip to the splendidly-situated Stirling Castle, which had just (partially) reopened, came the deluge. No campervan adventure would be complete without a day hunkered down in a condensation-filled van, lashed with rain, while the campsite gradually water-logs around you – our damp pitch is pictured below. Still, high morale was maintained with cups of tea and that marvellous Scottish invention, the Tunnock's Tea Cake (plus the occasional G&T in a tin). Then we moved on from a sodden, midgey Loch Lomond to our final Scottish stop on the Ayrshire coast.
Campervan adventure days 16, 17 & 18. Fortified by our morning fry-ups, we spent a couple of days checking out the Ayrshire coast. Great views of Arran from the campsite (below). Then a beautiful Saturday morning slow drive through border country, listening to the Test Match – close to perfection! Brollies now needed only to keep the sun off at Caerlaverock Castle, before we left Scotland behind after 2 weeks – we'll be back. Our final site was in Northumberland, a dry stone's throw from Hadrian's Wall.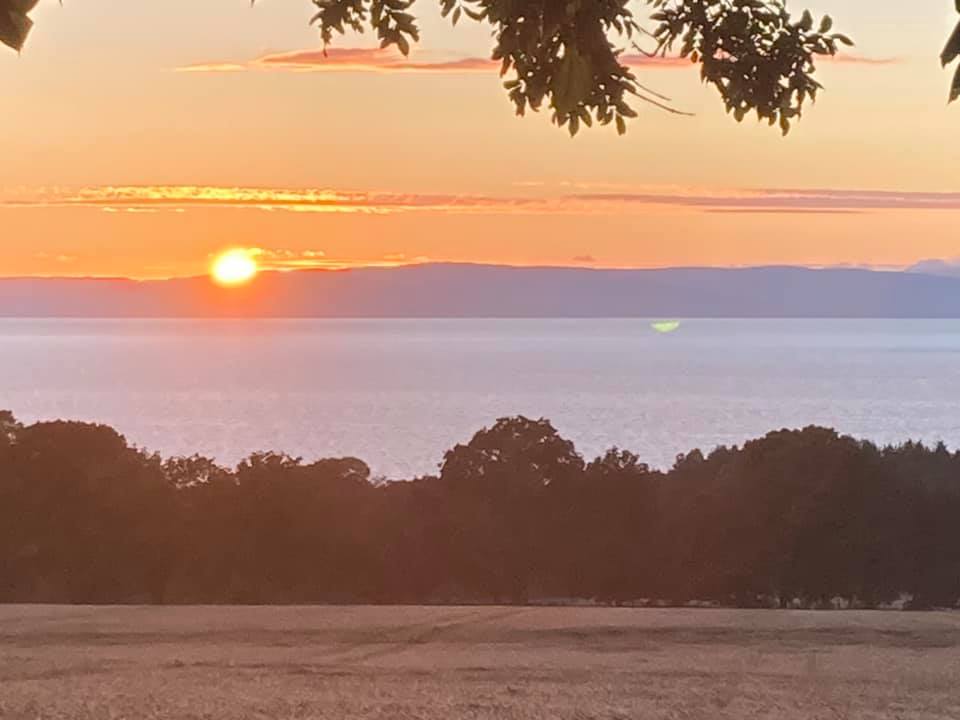 Campervan adventure – the end (days 19 & 20). A day spent on and around Hadrian's Wall – well worth more time than we had for walking and atmospheric landscape. Then the long drive home, arriving in 30 degree heat, having put 1870 miles on the van clock over 3 weeks. Great to have had this experience (particularly after the last few months of lockdown) and that, after 19 nights together in a 5m x 2m metal box, we were all still talking to one another!
Campsites on this trip:
Camping & Caravanning Club, Slingsby, N Yorks
Camping & Caravanning Club, Dunbar
Camping & Caravanning Club, Scone
Camping & Caravanning Club, Dingwall
Camping & Caravanning Club, Milarrochy Bay
Camping & Caravanning Club, Culzean Castle
The Hadrian's Wall Campsite